There's a reason you're reading this blog! Are you feeling a little hungry during your bikini competition training?? If so you are in the right place for tips and tricks to help hold off your "hunger beast!"
I train bikini competitors to track their macros during contest prep. If you are at all familiar with the flexible dieting approach, then you know that utilizing vegetables can be a great way to calm the "hunger beast."
Veggies are a great way to add size, without adding extra calories. This is a great way to stay within macro budget for your training program. One of the ways to achieve more food and minimal calories is volume eating. Here are some of the benefits to volume eating.
Volume Eating:
Volume eating is something that can really be utilized during any lean out or cut phase for a bikini competition or just as part of your year round training regimen if you are a foodie like me. This method can keep you well fueled during your bikini training, without loosing the results. It can help you feel more satisfied and full due to increased size, volume and fiber content. Some examples of how this can be achieved are, by adding cauliflower rice in place of carb dense rice, spaghetti squash instead of pasta, adding a large salad with your protein serving, etc.
Benefits of Volume Eating
Increased veggies means increases macronutrients and fiber.
The bigger the meal the longer it takes you to eat it. This gives your brain time to register that you are full.
Volume eating tricks the mind that you are eating large amounts of food. This can be a very important especially when you are extremely hungry
Adding Cauliflower Rice-Recipe Example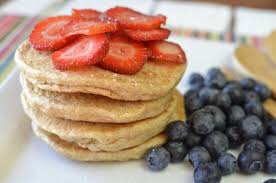 Sweet Low Carb Cauliflower Pancakes
INGREDIENTS:
25 grams protein powder
2 egg whites
zero calorie Sweetener
½ tsp baking powder
1 cup cauliflower rice
Vanilla extract
Sea salt & Cinnamon to taste
DIRECTIONS:
Microwave cauliflower rice bag. Squeeze the water out. Mix all dry ingredients together then add the egg whites, sweetener, vanilla, and cauliflower. Blend the batter for fluffy texture. Use a nonstick pan with Pam to make pancakes.
MACROS: Cal-185 P-25 C-7 F-5
Adding Spaghetti Squash-Recipe Example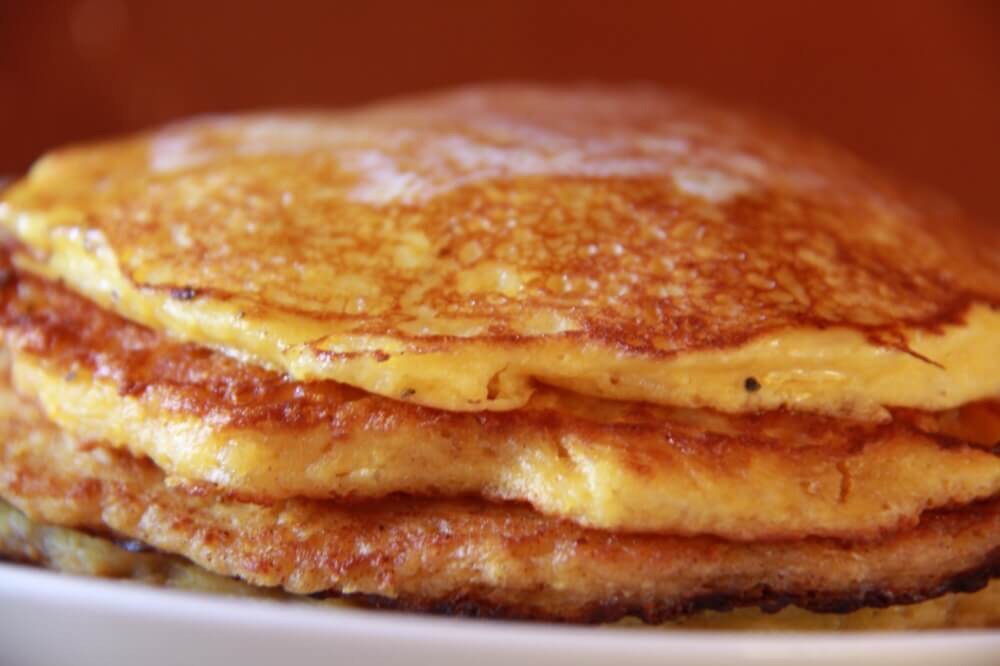 Low Carb Spaghetti Squash Pancakes
INGREDIENTS:
3/4 cup cooked spaghetti squash
2 egg whites
25 grams protein powder
1 Tbsp unsweetened almond milk
1/2 tsp cinnamon
1/2 tsp vanilla
1 tsp baking powder
DIRECTIONS:
Combine in a blender, spray skillet with Pam & pour
MACROS: Cal-148 P-28 C-6 F-1
Protein Powder in place of Flour
Another way to make recipes such as these pancakes more macros friendly, is to replace flour for protein powder. Not only does it add a variety of yummy flavors, but it also keeps the carb count lower. Most bikini competitors need pretty high protein macros in order to build and maintain muscle mass. In addition high protein can leave a hungry bikini competitor full and satisfied.
Hopefully these recipes and tips will help you with your bikini training goals and provide some relief from the hunger beast!
For more help with online bikini training email glamgirlbikini@gmail.com or CLICK the application link on the website at: www.glamgirlbikini.com